Home» News&Events» News» Doctors from Morocco Mohamed VI Hospital Visit PUTH Department of Cancer Radiotherapy
Doctors from Morocco Mohamed VI Hospital Visit PUTH Department of Cancer Radiotherapy
  Morocco is an important node-country along "The Belt and Road ". "The Belt and Road" is not only a route for business, but also a channel for scientific and cultural exchanges. China-Morocco mutual medical aid has always been the "gold-lettered signboard" in these two countries' mutual cooperation. Recently, at the invitation of the Chinese People's Association for Friendship with Foreign Countries (CPAFFC), 4 medical staff from Morocco Mohamed VI hospital came to Peking University Third Hospital (PUTH) to learn and communicate with PUTH Department of Cancer Radiotherapy.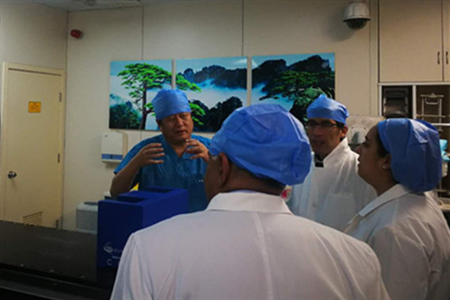 head of PUTH Cancer Radiotherapy Department, WANG Junjie and his colleagues receive doctors from Morocco
  Morocco Mohamed VI Hospital is the best public hospital in Morocco. The visiting doctors to PUTH are from this hospital's departments of neurosurgery and Hematology and Oncology. They first observed a unique technique of PUTH Department of Cancer Radiotherapy--- CT-guided and 3D printing individual template-assisted radioactive seed implantation for malignant tumors, and then visited the Department of Cancer Radiotherapy. Doctors from both sides had a symposium, during which, WANG Junjie, head of the Department of Cancer Radiotherapy introduced to the guests the situation in medical care, teaching, scientific research and discipline construction. Morocco Doctors were very impressed by the department's outstanding achievements, harmonious atmosphere and professional level.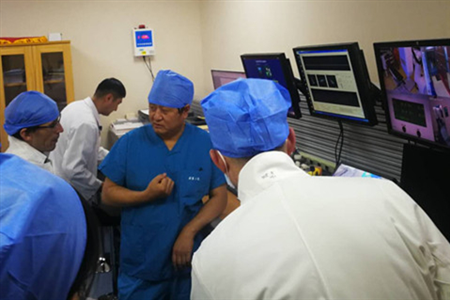 Written by: WU Zhaoxia
  Edited by:Liu Xin
  Source: Peking University Third Hospital
TOP