Home» News&Events» News» Projects of PKU Third Hospital Win Prizes in the China Hospital Management Award Competition
Projects of PKU Third Hospital Win Prizes in the China Hospital Management Award Competition
  On October 29, the 2021 China Hospital Management Award Final hosted by CN-HEALTHCARE and Hainan Boao Medical Innovation Research Institute was held in Guangzhou. The pharmacy project of Peking University Third Hospital (PKUTH) won the silver award of "Pharmaceutical Management", the bronze award of " Scientific and Technological Innovation "and " Research Case Award "respectively, and the project by PKUTH Party Committee Office won the National Excellence Award of " Party Building Culture ".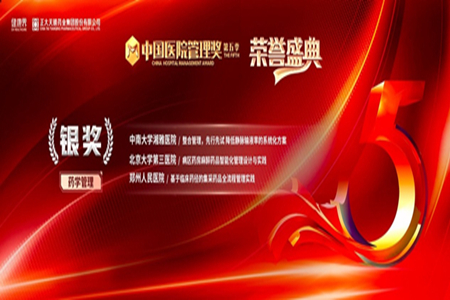 With the theme of "scientific management and high-quality development", the current China Hospital Management Award collected 1244 practical cases. Through the evaluation of expert judges, 20 management projects of scientific and technological innovation and pharmaceutical management were shortlisted for the national final. According to the project competition rules, the "blind evaluation" system and the "same hospital avoidance" system were implemented, and projects were evaluated from three dimensions including structural indicators, process indicators and outcome indicators. And based on multi-dimensional indicators such as project value, management theory, efficiency and benefit, popularization and promotion, gold, silver, bronze prizes and National Excellence Awards were selected in the end.
  China Hospital Management Award is one of the important awards in the field of hospital management in China. PKUTH has always been sticking to the constant reflection and innovation in medical service and management practice so as to promote the high-quality development of disciplines by means of project management. The awards this time show the importance attached by PKUTH to Party construction and the influence of its pharmacy in the industry.
  Written by: Wu Zhaoxia
  Edited by:Liu Xin
  Source: Peking University Third Hospital
TOP