Home» News&Events» News» Liu Yu and Xiang Nijuan Arrives in Hong Kong on Mainland Health Experts Team to Help fight COVID-19
Liu Yu and Xiang Nijuan Arrives in Hong Kong on Mainland Health Experts Team to Help fight COVID-19
  With the request from the Hong Kong Special Administrative Region (HKSAR) government, the central government sent mainland health experts team to support and assist the COVID-19 control efforts. A group of the team members arrived in Hong Kong on February 28. HKSAR Chief Executive Carrie Lam, Vice Director of the Liaison Office of the Central People's Government in the HKSAR Chen Dong, and Secretary for Food and Health Sophia Chan Siu-chee welcomed the experts at the Shenzhen Bay Port. Carrie Lam expressed her heartfelt thanks to the central leadership for their great attention, care and full support to Kong Kong. The top experts' experience in fighting COVID-19 would benefit the HKSAR's present response to the unprecedented severe epidemic, Lam said.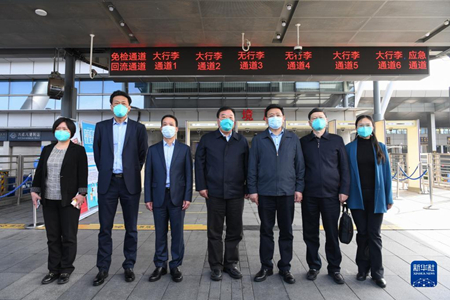 The mainland health experts team sets for Hong Kong to help fight COVID-19
  This is the third anti-pandemic expert team form the Chinese mainland to help contain the fifth wave of the COVID-19 pandemic in Hong Kong. Team members include Liang Wan Nian (team leader), Executive Vice Dean of Tsinghua Unviersity Vanke School of Public Health, team leader of the expert team of COVID-19 response work leading group of the National Health Commission (NHC), Yang Weizhong, Executive Dean of School of Population Medicine and Public Health, Peking Union Medical College, Li Qun, Director of Public Health Emergency Center of Chinese Center for Disease Control and Prevention (CDCPHEC), Xiang Nijuan (first on the left), Dean of Office of Monitoring, Warning, and Risk Assessment of CDCPHEC and Peking University School of Public Health (PKUSPH) alumna, and Liu Yu (first on the right), member of NHC COVID-19 expert team, PKUSPH alumna and researcher of PKUSPH Department of Epidemiology and Biostatistics.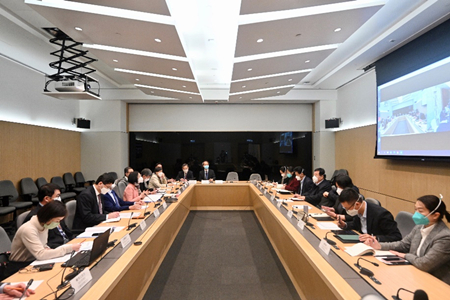 After arrival at Hong Kong, the expert team held several exchanges and in-depth discussions with HKSAR Chief Executive Carrie Lam, officials from Food and Health Bureau, Department of Health, Hospital Administration Bureau, Hygiene and Prevention Center, Social Welfare Department, Transport and Housing Bureau, and Housing Department, and local experts in public health, clinical medicine, etiology, and sociology. The expert team actively introduced and shared mainland's prevention and control measures and experience, the epidemic situation and tendency analysis. They also put forward constructive suggestions and proposed "three reductions, three weights, and one priority" as the phased aim, emphasis, and task. They promoted the epidemic prevention and control work in a more effective, more precise, and more targeted way.
  Written by: Lang Lang
  Edited by: Liu Xin
  Source: School of Public Health
TOP