PKU Cancer Hospital Professor Ji Jiafu Invited to Speak at IGCC 2022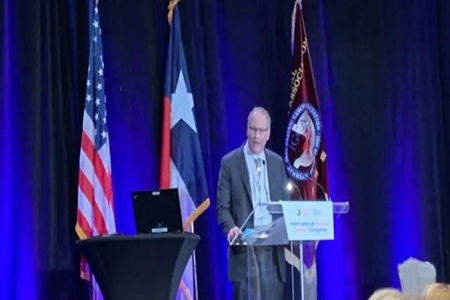 Congress Chair Professor Paul Mansfield
  The Fourteenth International Gastric Cancer Congress (IGCC) was held in Huston, USA on March 8, 2022, Beijing time. Ji Jiafu, the former president of the International Gastric Cancer Association (IGCA), and professor at Peking University Cancer Hospital, made a speech titled "Neoadjuvant Chemotherapy: Toward Personalized Medicine" at the JP Kim Lecture.
  The JP Kim Lecture is a traditional session specially set up to commemorate the international cancer pioneer Korean Professor JP Kim, where only one world renowned cancer scholar is invited to make a speech on a given topic. In his speech, Professor Ji Jiafu reviewed his pioneering work together with his team and his fellow researchers in the field of neoadjuvant treatment of gastric cancer when faced with the problem of late staging and difficult treatment of gastric cancer in China. His successful accomplishment of the head-to-head confirmation of the efficacy of neoadjuvant chemotherapy in phase III randomized controlled trial has provided massive patients of advanced gastric cancer with optimal treatment plan. Professor Ji also shared with his international fellows a series of efficacy prediction produced during the research and latest research findings in in vitro chemosensitivity, which may help push gastric cancer toward the personalized precise medicine.
  IGCC is the topmost academic conference in the field of gastric cancer across the globe officially held by IGCA once every two years. From 2015, leading his fellow scholars in the Chinese gastric cancer academia, Professor Ji Jiafu submitted the application to host the conference for three times and finally succeeded in 2013. The 12th IGCC was held in Beijing in 2017 and Professor Ji Jiafu became the first Chinese to assume President of IGCA.
  Written by: Lang Lang
  Edited by: Liu Xin
  Source: PKU Cancer Hospital
TOP