PKUHSC Holds 2022 Meeting on Medical Care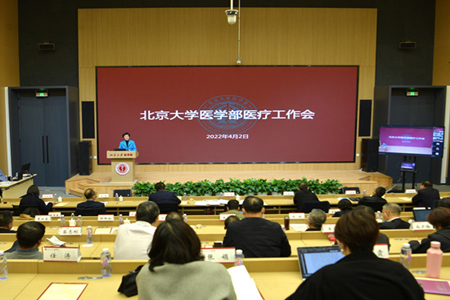 On April 2, Peking University Health Science Center (PKUHSC) held its 2022 meeting on medical care at the auditorium of the Medical Science and Technology Building. The meeting saw the presence of Prof. Qiaojie, Executive Vice President of the PKU and President of the PKUHSC; Prof. Chen Baojian, Executive Vice Party Secretary and Vice President of the PKU and Party Secretary of the PKUHSC; Mr. Hu Ruirong, Director of Medical Institutions, Bureau of Medical Administration, National Health Commission; Mr. Qiao Zhengguo, Deputy Director of Medical Administration, Beijing Municipal Health Commission; Mr. Zheng Jie, Technical Lead of diagnosis-related groups (DRGs) and Beijing Center for Healthcare Security; and the leaderships of affiliated hospitals.
  The meeting reviewed the contributions from the eight Beijing-based affiliated hospitals of the PKUHSC in the 2022 Winter Olympics and Paralympics. Recognizing the grim and complex situation in the response to COVID-19, the meeting reiterated the commitment of the PKUHSC, in view of the upcoming 20th CPC National Congress, to meticulous effort in prevention and control and continued improvement of care.
  The meeting heard from reports by presidents/party secretaries of the affiliated hospitals (Liu Xinmin from the First Hospital, Wang Jun from the People's Hospital, Jin Changxiao from the Third Hospital, Zhou Yongsheng from the Hospital of Stomatology, Ji Jiafu from the Beijing Cancer Hospital, Sun Hongqiang from the Sixth Hospital).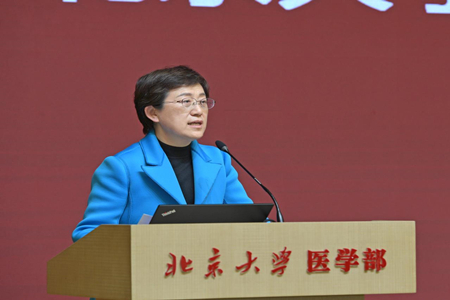 In her concluding remarks, Prof. Qiao emphasized the importance of goal-setting and constant improvement. She urged affiliated hospitals to create synergy and explore new possibilities in smart care and big data-based performance assessment by improving data interoperability and sharing.
  Written by: Fan Xiaofei
  Edited by: Liu Xin
TOP