Home» News&Events» News» PKU Holds Awards Ceremony for Beijing Winter Olympics and Paralympics Medical Support Personnel
PKU Holds Awards Ceremony for Beijing Winter Olympics and Paralympics Medical Support Personnel
  The Beijing Winter Olympics and Paralympics review and awards ceremony was held at the Great Hall of the People in Beijing on the morning of April 8. President Xi Jinping, also general secretary of the Communist Party of China (CPC) Central Committee and chairman of the Central Military Commission, attended the ceremony and delivered a speech. Peking University Third Hospital (PKUTH), Peking University volunteer team, and PKUTH Chongli Hospital were presented with the "award for outstanding contribution group of the Beijing Winter Olympics and Paralympics".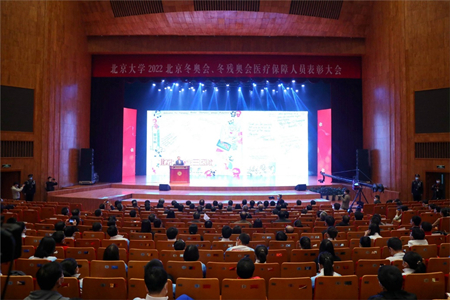 On the morning of April 9, Peking University award ceremony for 2022 Beijing Winter Olympics and Paralympics medical support personnel was held at the PKU Hall, to commend the awarded groups and individuals who have made outstanding performance.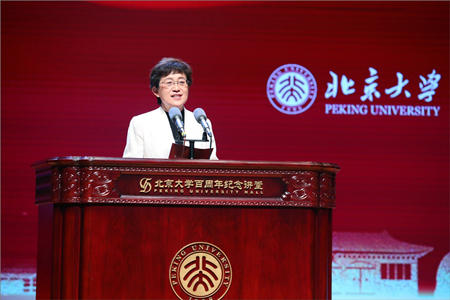 Qiao Jie, PKU Vice Executive President and President of PKU Health Science Center introduced PKU medical team's support work for the Beijing Winter Olympics and Paralympics. During the Games, as the only medical support unit that serviced all the three venues of the Games, PKU Medicine has provided an all-rounded, highly efficient, and timely medical support for the Games with its excellent treatment system and rich experience in medical support. The medical provision work for the Games has promoted the coordinated development in the Beijing-Tianjin-Hebei regional health care and has also become a historic opportunity for PKU Medicine to advance and laid a solid foundation for the future high-quality development for public hospitals. PKU will make very good use of that precious experience to forge ahead, receive the 110th anniversary of PKU Medicine, and present an outstanding achievement for CPC's 20th National Congress.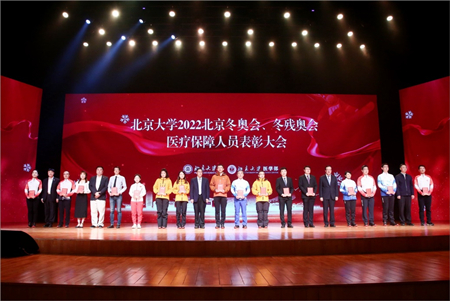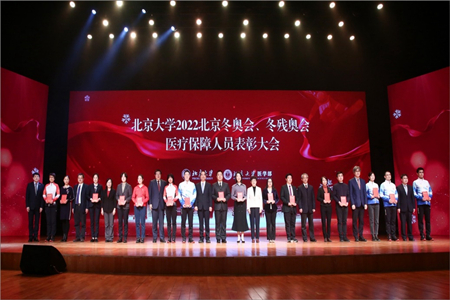 PKU President Hao Ping read out the award decision. Hu Yuelin and other 350 medical support team members were awarded "Peking University 2022 Beijing Winter Olympics and Paralympics medical support advanced individual", Wang Yanhua and other 205 medical support team members "Peking University 2022 Beijing Winter Olympics and Paralympics medical support excellent individual". Hao Ping called on the staff and students to learn from the awarded comrades, to carry forward PKU's excellent tradition of "daring to be the world's first", to abide by PKU Medicine's long-held morality "hou dao", and to make contributions to PKU's "Double First Class" construction and the Healthy China strategy.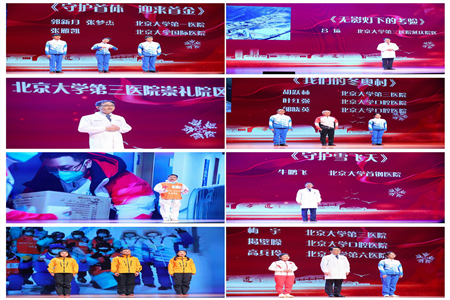 Representatives from eight affiliated hospitals shared their stories of providing medical service during the Beijing Winter Olympics and Paralympics and relived the unforgettable moments and the deep feeling during the work.
  In the post-Winter Olympics era, PKU Medicine will continue to stick to the patient-centered aim and shoulder the responsibility of promoting the health of the masses. It will also advance bravely and unwaveringly towards the building of a world's first-class and national top modern research-based hospital, do its best to help build a Healthy China, and continue to make contributions to the development of snow and ice sports in China.
  Written by: Lang Lang
  Edited by: Liu Xin
  Source: PKU News
TOP