Home» News&Events» News» Peking University Third Hospital Publishes Several Scientific and Technological Achievements
Peking University Third Hospital Publishes Several Scientific and Technological Achievements
  Focusing on scientific and technological innovation, through platform construction, resource allocation, financial support and other efforts, Peking University Third Hospital (PKUTH) has built a broad stage for the whole hospital to carry out innovation work and created a new ecology of scientific and technological development.
  Researcher Mao Fengbiao / Academician Qiao Jie Team Sets up the first Analysis Platform for eccDNA Data Integration and Epigenetic Regulation Prediction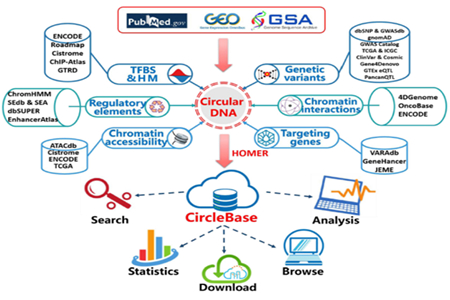 Work flow of CircleBase construction
  The team established a database platform CircleBase for predicting the regulation of gene expression function of extrachromosomal circular DNA (eccDNA) at the epigenetic level. The platform includes six sections: targeting genes, epigenetic regulations, regulatory elements, chromatin accessibility, chromatin interactions, and genetic variants. Circlebase provides a user-friendly interface for searching, browsing and analyzing eccDNA in various cell / tissue types, and offers a powerful tool for screening potential functional eccDNA and interpreting their molecular mechanisms in human cancer and other diseases.
  Full text link:https://academic.oup.com/nar/article/50/D1/D72/6430829?login="false#325778405
  Professor Liu Zhongjun's Team Demonstrates Improved Osseointegration by Photofunctionalization Technology on 3D Printed Titanium Alloy Implants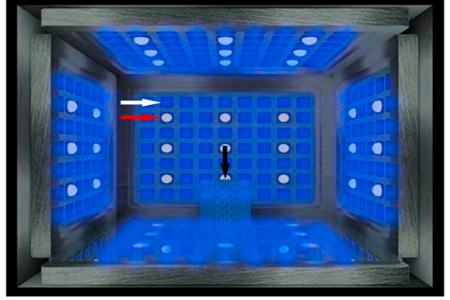 The research team designed an omnidirectional radiator based on ultraviolet (UV) photofunctionalization, which proved osseointegration promotion effects for the surface treatment of 3D-printed porous Ti6Al4V implants, and provided a theoretical basis for the application of photofunctionalization technology in the field of bone repair and fusion in the future.
  The main body of the research team consists of the Department of Orthopedics of PKUTH, Beijing Aikang Medical Equipment Company and PKU School of Engineering. Since 2010, the research team has carried out a series of exploration and research on the application of 3D printing technology in the field of orthopedics, and successively developed three series of 3D printed titanium alloy microporous structure implants applied to joint and spinal surgery, which were listed in China from 2015 to 2016 and recognized as the first batch of 3D printed orthopedic products registered by China National Medical Products Administration. At the same time, the team developed and applied customized 3D printed titanium alloy implants and successfully created many "world first cases", making Chinese orthopedics take the lead in the world in the field of clinical application of 3D printing technology.
  Full text link: https://www.sciencedirect.com/science/article/pii/S2452199X21002632?via%3Dihub="
  Professor Tian Yun's Team Develops a New Biological Sealant that Can Realize Suture-Free Repair of Dura Mater in Spinal Surgery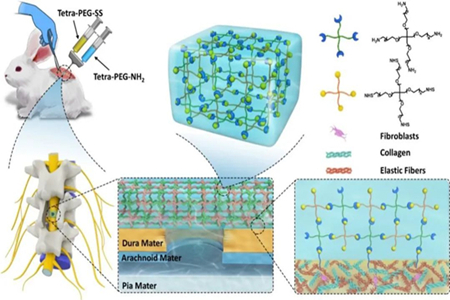 Based on the clinical needs, the team developed a new type of polyethylene glycol (PEG) hydrogel, which is easy to operate and can directly form glue through injecting a dual syringe into the spinal dura mater injury area, and form a strong covalent linkage with the collagen and elastin of the dura surface, providing a fast and stable effect of watertight closure. And it also can withstand the intensity far greater than the normal cerebrospinal fluid pressure.
  In addition, the dural defect model of New Zealand rabbits was established, which confirmed that in vivo they can effectively prevent cerebrospinal fluid leakage and promote the repair and regeneration of dura mater, thus providing a practical new treatment for the repair of dura mater during spinal surgery.
  Full text link:https://www.sciencedirect.com/science/article/pii/S2452199X2100308X
  Written by: Wu Zhaoxia
  Edited by:Liu Xin
  Source: Peking University Third Hospital
TOP