Home» News&Events» News» PKUHSC Holds Cross-disciplinary Cooperation Forum Between New Medicine and New Engineering
PKUHSC Holds Cross-disciplinary Cooperation Forum Between New Medicine and New Engineering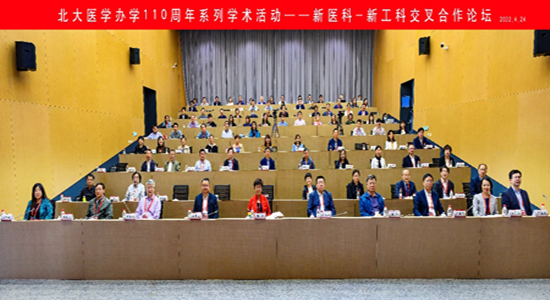 Group photo of the main forum
  On April 24, 2022, the Cross-disciplinary Cooperation Forum Between New Medicine and New Engineering, one of the academic series for the 110th anniversary of PKU Medicine, was successfully held in the lecture hall of the Science and Technology Building of Peking University Health Science Center (PKUHSC) and online as well, with 4,600 online participants.
  At the meeting, Cheng Heping and Zhang Jin, academicians of the Chinese Academy of Sciences, and Jiang Baoguo, academician of the Chinese Academy of Engineering, delivered keynote speeches respectively. After that, Duan Huiling, dean of PKU College of Engineering, Zheng Lemin, professor of PKU School of Basic Medical Sciences, Zhan Siyan, Dean of PKU School of Public Health, and Deng Xuliang, vice president of PKU School and Hospital of Stomatology, shared their ideas in turn concerning different themes.
  At the end of the meeting, Qiao Jie, executive vice president of PKU, president of PKUHSC, and academician of the Chinese Academy of Engineering, delivered a summary report. Taking the construction of national imaging infrastructure for people's life and health as an example, she introduced the practice of medical imaging technology to promote clinical application and accelerate cutting-edge technologies, providing a reference experience and development path for the in-depth cross-disciplinary cooperation of "new medicine - new engineering". Qiao Jie once again expressed her hope that the "new medicine - New Engineering" should be closely combined with the new requirements of our party and country in the new era, with the new round of "double first-class" construction planning and deployment of Peking University, and with the development of PKU Medicine, so as to create a new highland of medical and industrial intersection for the sake of people's life and health, solve the "sticking points" and cutting-edge problems in national medical science and technology innovation, inherit the brilliance of past cross-disciplinary achievements, and open a new chapter of future cooperation.
  On the afternoon of April 24, the forum was divided into two sub-forums: "Advanced Medical Technology and Materials Sub-forum" and "Medical Digital Intelligence Sub-forum". More than 30 experts from PKU Division of Information & Engineering and PKUHSC gave wonderful speeches respectively.
  Written by: Wu Zhaoxia
  Edited by: Liu Xin
TOP