PKU International Cancer Institute Holds Annual Forum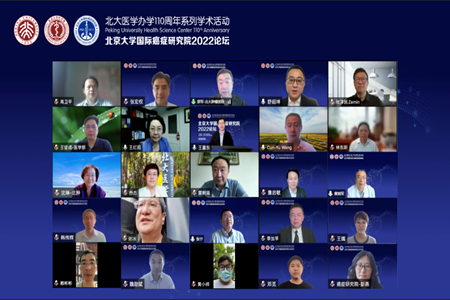 Peking University International Cancer Institute held its 2022 forum on May 29. As part of the academic series that mark the 110th anniversary of PKU Medicine, the virtual forum featured presentations by a number of renowned figures in the field and a viewership of over 5500.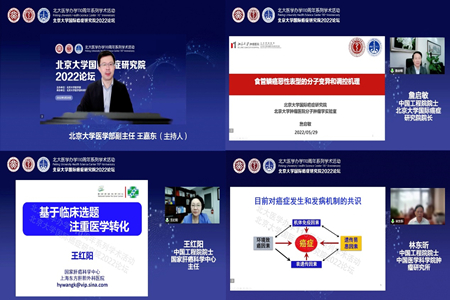 During the forum, President Zhan Qimin of the hosting institute delivered a keynote speech on the molecular variation and regulatory mechanism of malignant esophageal cancer. He was then joined by another two keynote speakers—Director Wang Hongyang of The National Center for Liver Cancer and Prof. Lin Dongxin of Cancer Hospital, Chinese Academy of Medical Sciences. Prof. Wang reviewed the challenges and bottlenecks in oncological care in China, discussed how to carry out translational research based on clinical problems, and introduced the latest development in the classification and targeted treatment of cholangiocarcinoma and liver cancer. Prof. Lin's talk, on the other hand, focused on esophageal cancer and touched on the progress in its research, prevention and treatment, the research strategies of its genetic factors, its genetic susceptibility factors, and a vision for its care in the future.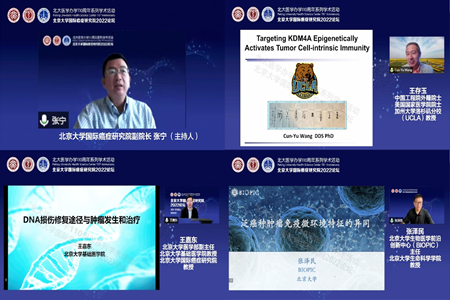 In the session that followed, Prof. Wang Cunyu of UCLA, an alumnus of PKU Medicine, presented his research titled "Targeting KDM4A epigenetically activates tumor cell-intrinsic immunity", which paved the way for the development of KDM4A-specific inhibitors as a potential way to treat cancer.
  Other speakers at the forum included Prof. Wang Jiadong, Vice President of Peking University Health Science Center; Prof. Zhang Zemin, Director of the PKU Biomedical Pioneering Innovation Center (BIOPIC); Prof. Ji Jiafu, Prof. Shen Lin and Prof. Guo Jun, President and Vice Presidents of Beijing Cancer Hospital; Prof. Zhang Hongquan, Vice President of the PKU International Cancer Institute; Prof. Huang Xiaojun, President of the PKU Institute of Hematology; and Assistant Profesor Huang Xiaoshuai at the hosting body.
  Their presentations showcased the leading studies in frontier omics, molecular biology, and model-based biology of liver cancer, esophageal cancer, gastric cancer, breast cancer, blood tumor and melanoma, with a full spectrum from basic medical sciences, translational research, to clinical trials.
  Written by: Fan Xiaofei
  Edited by: Liu Xin
  Source: PKUHSC Department of Research, PKU International Cancer Institute
TOP