Home» News&Events» News» Peking University People's Hospital Anointed National Center for Emergency Medical Relief
Peking University People's Hospital Anointed National Center for Emergency Medical Relief
  Peking University People's Hospital (PUPH) was announced to be among the first group of national bases for emergency medical relief and the only facility placed at "central-level" in the list. The National Development and Reform Commission (NDRC) and the National Health Commission (NHC) made the announcement in May 2022, in an effort to build capacity for emergency medical response in China during the 14th Five-Year Plan period. The PUPH was nominated by the Beijing municipal commissions of the NDRC and the NHC in July 2021.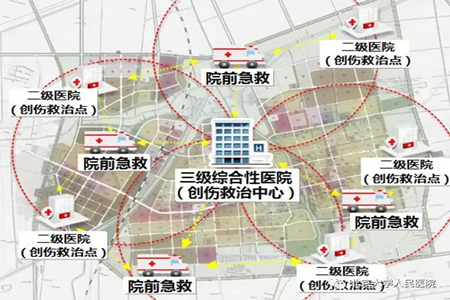 With its outstanding expertise in trauma-related care, education, research and administration, the PUPH had already served similar functions in other NHC programs, for example, as national centers for traumatology and standardized trainings. It holds the presidencies of the International Trauma Rescue & Treatment Association and the association's Chinese branch.
  In 2016, President Jiang Baoguo of the PUPH and his team developed China's first trauma protocol and started to build a regionally-aligned trauma response system with hospitals at the center. By 2022, this four-tiered system (national, provincial, prefectural and county levels) has involved over 1700 facilities.
  Going forward, the new mandate at the PUPH will be based in its Tongzhou compound, making use of both regular and air ambulance resources. The base will work to improve its facility-wide coordination, build a dedicated relief team that is digitally equipped and protocol-informed, and stay ready to respond to health emergencies.
  Written by: Fan Xiaofei
  Edited by: Liu Xin
TOP