Home» News&Events» News» The 19th Chinese International Congress of Vascular Medicine Held in Beijing
The 19th Chinese International Congress of Vascular Medicine Held in Beijing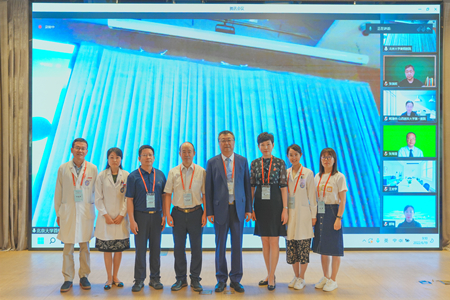 The 19th Chinese International Congress of Vascular Medicine (CCVM 2022) and the 17th Asia Pacific Congress of International Society of Vascular Health were held smoothly both online and offline from June 17 to 19, 2022.
  The congress was cohosted by Peking University Shougang Hospital, the CCVM 2022 organizing committee, PKU Health Science Center Vascular Health Research Center, the Vascular Medicine Discipline Committee of China Medical Education Association, the Heart and Vascular Medicine Discipline Committee of Sino-Japanese Medical Science and Technology Exchange Association, China Branch of International Society of Vascular Health, the Clinical Research Branch of Beijing Medical Ethics Association, and Gucheng Community Health Service Center of Shijingshan District of Beijing. The theme of the congress was "innovation for a digital future, immunity and vascular health".
  The forum of this conference involved various aspects, such as the development and trend of vascular medicine, the evaluation and progress of vascular function, the target of vascular protection, vascular intervention, risk factors and vascular diseases, immunity and vascular diseases, ethics of vascular medicine research, tertiary diagnosis and treatment of chronic disease management, basic research of vascular medicine, vascular severe disease, artificial intelligence and big data, collaborative career development of education and medical education in vascular medical colleges, sleep and vascular medicine, and vascular aging.
  Written by: Lang Lang
  Edited by: Liu Xin
  Source: PKU Shougang Hospital
TOP