Home» News&Events» News» Miyun Local Government and PKU Sign Construction Agreement on Huaimi Medical Center Project
Miyun Local Government and PKU Sign Construction Agreement on Huaimi Medical Center Project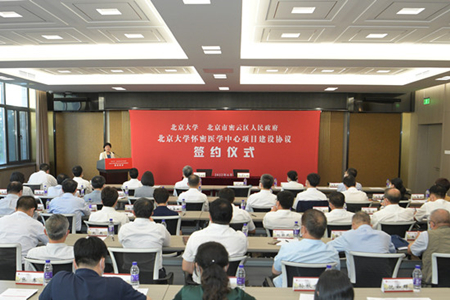 On June 24, local government of Miyun District and Peking University held a signing ceremony for the construction agreement of Huaimi Medical Center Project.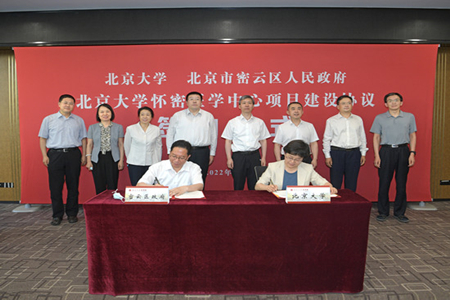 Ma Xinming, deputy party secretary and district chief of Miyun, pointed out that after its completion, the Center will become the driving force for Miyun's scientific and technological innovation and strategic development of life and health, promote the construction of Beijing International Scientific and Technology Innovation Center and the development of health undertakings, accelerate the construction of original innovation and supporting services of Huairou Science City, and enhance the development of Miyun's life sciences and pharmaceutical industry, as well as the qualitative leap in education and health care. Miyun District will support the establishment, construction, operation and management of the Project, and do a good job in the service guarantee of talent housing, transportation, children's schooling and so on, so as to escort the construction of the Project.
  Qiao Jie, executive vice president of Peking University, president of Peking University Health Science Center (PKUHSC) and academician of the Chinese Academy of Engineering, pointed out at the meeting that this signing has achieved a historic breakthrough in the school-running space of PKU Medicine, which can not only promote the overall leapfrog development of PKU Medicine, but also accelerate the construction of Miyun's scientific and technological innovation and life health strategic development belt, as well as the industrial transformation and upgrading of ecological conservation areas, and help to construct Beijing International Scientific and Technology Innovation Center.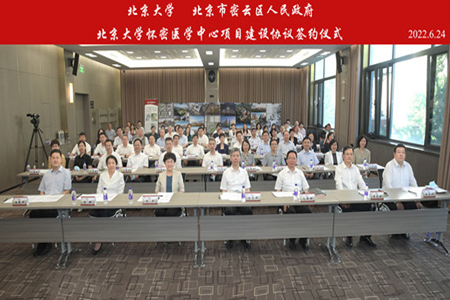 Huaimi Medical Center is located in the south of the east district of Huairou Science City (Miyun District, Beijing), with a total planned construction land of about 1, 048 mu (1 mu= 0.0667 hectares). It focuses on the goal of creating a world-class medical education, cutting-edge cross-disciplinary research and innovation transformation center, striving to build in an integrative way the related platforms and institutions for teaching and education, scientific research, and clinical research. The two sides will take this signing as an opportunity to further vigorously promote the construction of Huaimi Medical Center.
  Written by: Wu Zhaoxia
  Edited by:Liu Xin
TOP