Home» News&Events» News» Peking University People's Hospital Inaugurates Its Shijiazhuang Branch
Peking University People's Hospital Inaugurates Its Shijiazhuang Branch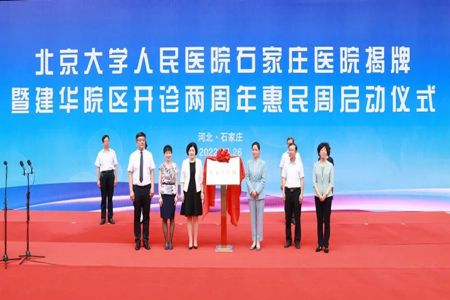 Peking University People's Hospital, Shijiazhuang, was inaugurated June 26 at the former Jianhua compound of Shijiazhuang People's Hospital. Its inauguration marked the beginning of a new phase in the cooperation between the PUPH and the local government in building a pivotal medical facility for the Jing-Jin-Ji Metropolitan Region.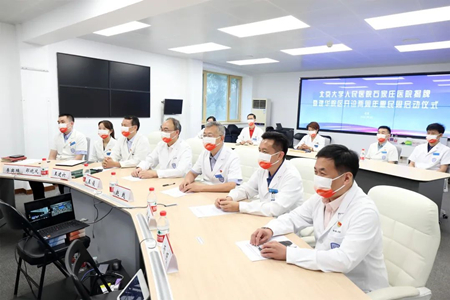 The PUPH and the local government started their cooperation with a well-designed roadmap, a roadmap that brought together their respective resources to build capacity at the new facility in a focused, incremental and continuous manner. According to the roadmap, the facility would reach the criteria for regional medical centers in 3-5 years, with 1,000 beds and substantially improved competency in care, education and research, so as to meet the needs of local population and reduce outward referral.
  The Shijiazhuang branch will be managed to the same standards as the PUPH proper. So far the PUPH personnel have staffed the departments of hematology, GI, anesthesiology, breast surgery, gynecology, thoracic surgery, respiratory and critical care medicine, radiology, ultrasonography, pharmacy, medical administration, and nursing. Executive chiefs and resident experts have been deployed to ensure alignment of system and culture. These will act as seeds that may give rise to an equally competent team in the long run.
  Written by: Fan Xiaofei
  Edited by: Liu Xin
TOP