Home» News&Events» News» The 2022 School Opening Ceremony of PKUHSC---Chasing Dreams on the 110-year Spiritually Fertile Land
The 2022 School Opening Ceremony of PKUHSC---Chasing Dreams on the 110-year Spiritually Fertile Land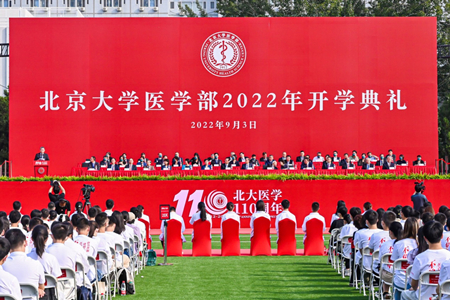 On the morning of September 3, the 2022 School Opening Ceremony of Peking University Health Science Center (PKUHSC) was held on the newly-renovated playground, welcoming 2,574 freshmen to join the family of PKU Medicine, who is about to celebrate her 110th anniversary. The ceremony opened an online live channel to make it possible for teachers, students and parents at home and abroad who could not come to the scene to share the joy of the freshmen.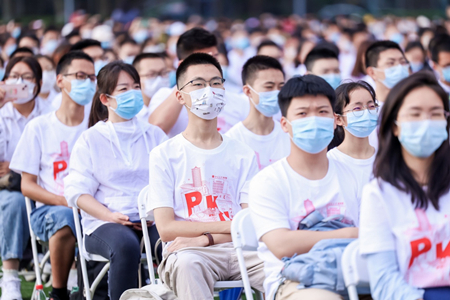 In 2022, PKUHSC enrolled 924 undergraduates and 2,049 postgraduates, including 1,076 doctoral students and 973 master students. At the ceremony, 16 Students from Medical School of Tibet University who are doing their internship at PKU Shougang Hospital were invited to relive the glorious moment of becoming medical students with the freshmen of Beiyi (PKUHSC).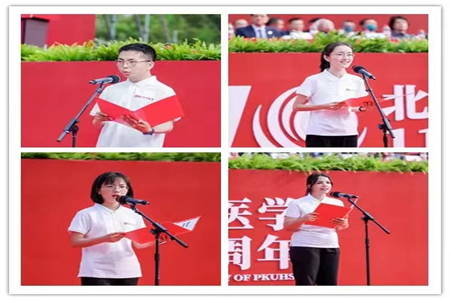 On behalf of the freshmen, Pingcuowangzha, from the eight-year clinical program, Zhang Xiwen, of stomatology major, Liu Songwei, from the Immunology Department of School of Basic Medical Sciences, and lu'er, overseas student of the clinical medicine major, answered the question-- "what makes the Beiyi youth in the new era?" with "inheritance, pursuit, commitment, and tolerance"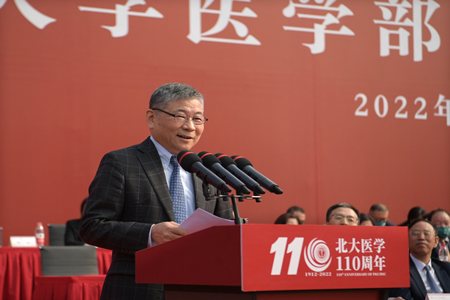 Professor Guo Wei, teacher representative from Peking University Second Hospital, encouraged the freshmen with his own experience. "The process of learning medicine is long, hard and a little boring," but "the feeling of being needed by others all the time will make you forget all the hard work; if you can heal a patient and perform a complex operation well, that sense of achievement and happiness will come naturally, and you will feel all your efforts are worth it."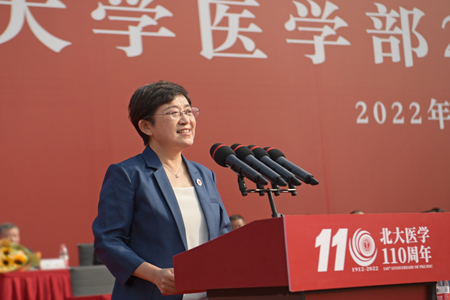 On the new journey towards the second Centennial goal of PKU Medicine, who is about to celebrate her 110th anniversary, Qiao Jie, executive vice president of Peking University, president of PKUHSC and academician of the Chinese Academy of Engineering, put forward four expectations for the freshmen.
  First, we should sincerely love our country and anchor the correct course of life. Second, we should be moral and inspirational, and adhere to the original aspiration of serving the people. Third, we should be diligent in learning and seeking truth, and courageously scale the peak of medical science and technology. Fourth, we should act with kindness and morality and respond to the call of the era and the people.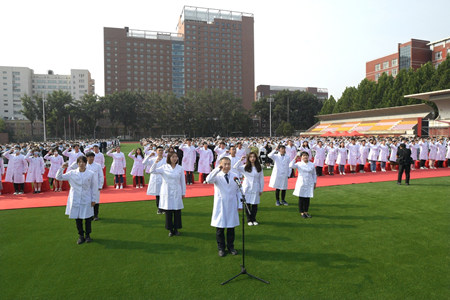 "Health related, life entrusted. The moment I step into the hallowed medical institution,I pledge solemnly……" led by Xu Shandong, executive deputy secretary of the Party Committee of PKUHSC, the freshmen collectively read aloud the Oath of A Medical Student.
  Written by: Wu Zhaoxia
  Edited by:Liu Xin
  Source: Department of Publicityv
TOP