Home» News&Events» News» Professor Zhou Yanheng Elected President of Asian-Pacific Orthodontic Society
Professor Zhou Yanheng Elected President of Asian-Pacific Orthodontic Society
  From Marth 4 to 7, the Eleventh Asian-Pacific Orthodontic Conference (11th APOC) was held in the Philippines. More than 900 orthodontists from the Asian-Pacific Region attended the conference. General election was carried out during the meeting for the Asian-Pacific Orthodontic Society (APOS), and Professor Zhou Yanheng from Peking University Hospital of Stomatology (PKUHS) was elected president of APOS. It was the first time for a Chinese doctor to chair APOS since its foundation in 1991.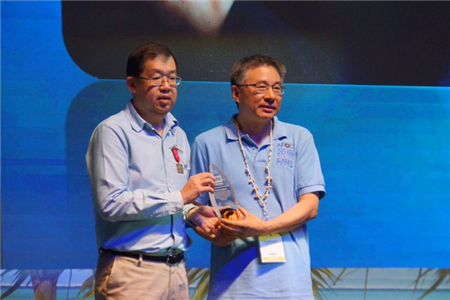 Professor Zhou Yanheng (right) elected chair of APOS
  Meanwhile, Professor Fu Minkui, Chairman of the first and second Orthodontic Specialized Committee of the Chinese Stomatological Association, former President of PKUHS, and former Dean of Orthodontic Department, was awarded the title of "honorary academician of APOS".
  Initiated by the orthodontic associations from countries and regions such as Japan, China, Korea, Singapore and Thailand, APOS was founded in 1991. In recent years, with the growing of its influence, APOS has embraced more associations to join the society, including those from Australia and New Zealand. Today APOS has grown to have 19 affiliate members and represent the highest level of academic organization of orthodontics in the Asian-Pacific Region. The election of Professor Zhou Yanheng as the president of APOS shows the recognition of China's academic influence of orthodontics and will certainly promote the international exchange of orthodontics in China.
  Written by: Lang Lang
  Edited by: Liu Xin
TOP