IAOMS Inspects PUHS Department of Oral and Maxillofacial Surgery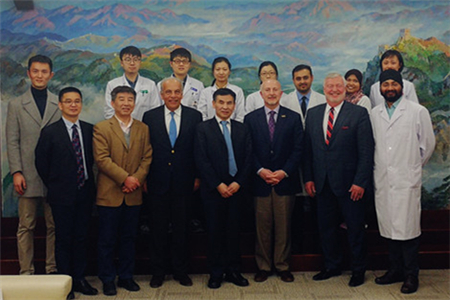 On March 8, the International Association of Oral and Maxillofacial Surgeons (IAOMS) inspected the Department of Oral and Maxillofacial Surgery at Peking University Hospital of Stomatology (PUHS), which is an IAOMS designated Oral and Maxillofacial Oncology and Reconstructive Surgery Training Center. The inspectors held talks with the Department's specialist and managerial teams after visiting its wards, operating rooms, postoperative recovery rooms, clinical training center, digital laboratory and molecular biology laboratory. They expressed admiration to the PUHS for its achievement in oral and maxillofacial surgery and gratitude to the Training Center for its contribution to the IAOMS international education campaign via its successful managerial model.
The IAOMS delegation was led by its Foundation Chair Larry Nissen, Fellowship Chair G. E. Ghali and Editor-in-Chief Nabil Samman of International Journal of Oral and Maxillofacial Surgery.
The IAOMS Training Center at PUHS was established in 2010 and has since provided one-year training program to 7 doctors from 5 countries.
  Written by: Fan Xiaofei
Edited by: Liu Xin
TOP