Peking University Third Hospital Delegates Attend CSRS-AP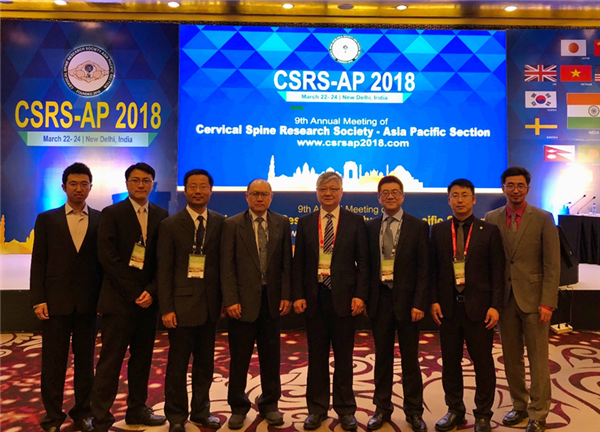 An eight-person delegation of Peking University Third Hospital (PUTH) attended the 9th Annual Meeting of Cervical Spine Research Society Asia Pacific Section (CSRS-AP), which was held between March 22 and 24 in New Delhi, India.
At the meeting, Prof. Sun Yu, head of the delegation and member of the meeting's Program Committee, gave a plenary speech and chaired one of the academic sessions. He was then elected to the CSRS-AP Education Committee. His colleague, Dr. Wang Shenglin, was elected to the Communications Committee. Dr. Zhou Feifei and Dr. Zhao Yanbin obtained Active Membership. The delegation presented to the audience the latest research at PUTH in the field of cervical spine surgery.
As the most influential academic society of cervical spine surgery, CSRS hosts meetings which offer the audience opportunities to hear from the most prestigious experts in the field. This year's event attracted 362 professionals from 17 countries and regions, and the PUTH team was the biggest Chinese delegation at this meeting.
Written by: Fan Xiaofei
Edited by: Liu Xin
Source: Peking University Third Hospital
TOP