Asian-Pacific Society of Nephrology Establishes Hai-yan Wang Lecture
  Back in 2013, Professor Wang Haiyan from Peking University First Hospital (PKUFH) was awarded the "Roscoe R. Robinson Prize" by the International Society of Nephrology (ISN) for her outstanding contributions to the education in nephrology. In the same year, she was named as the "Mother of China Nephrology" and won the first ISN Pioneers in Nephrology Award for her pioneering and leading work in nephrology in China since 1960s. Since 2018, the Asian-Pacific Society of Nephrology (APSN) has specially established the "Hai-yan Wang Lecture" in remembrance of her extraordinary contribution to the development of nephrology.
  From March 27 to 31, 2018, authorized by APSN, the Chinese Medical Association and the Chinese Society of Nephrology held the "16th Asian Pacific Congress of Nephrology and 2018 Annual Congress of Chinese Society of Nephrology" in Beijing. Invited as the first speaker at the "Hai-yan Wang Lecture", Professor Zhao Minghui, Director of the Department of Nephrology of PKUFH, delivered a speech on "The Clinical Research on Lupus Nephritis". Starting from the incidence of disease in China, Professor Zhao introduced the classic clinical research on lupus nephritis. With the breakthrough point of the pathophysiological mechanism, he presented the new targets of therapy. And he also commented on the future therapeutic directions from the perspective of other complications of renal damages. After the lecture, the congress chair presented the medal of "Hai-yan Wang Lecture" to Professor Zhao Minghui.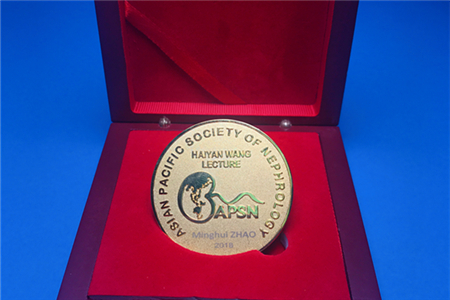 Written by: Lang Lang
  Edited by: Liu Xin
  Source: PKUFH
TOP