UoM Medical School Vice president Visits PKUHSC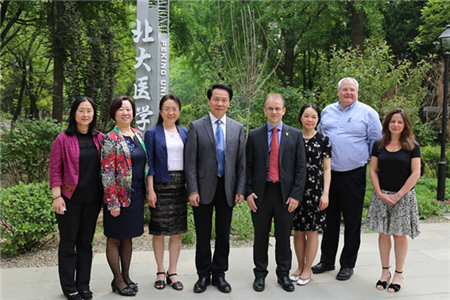 On May 10, 2018, a five-person delegation from University of Manchester (UoM) led by Keith Brennan, vice president of School of medicine, visited PKUHSC. ZHAN Qimin, vice president of PKU and president of PKUHSC, met with the group.
  Both ZHAN Qimin and Keith Brennan spoke highly of the results of the mutual visits which took place last November and this January. In particular, the two sides exchanged views on various issues including the "China-UK advanced training courses on international clinical genetics and genetic counseling ", precision medicine multi-genome studies, student exchanges in the fields of nursing and pharmaceutical sciences, joint research projects, and so on.
  PKUHSC and UoM have long maintained friendly cooperation and communication in the field of medical genetics. In 2014, the cooperation framework agreement was signed between PKUHSC and UoM and its Central Hospital, and the "PKUHSC-UoM Joint Center for Genomic Medicine" was set up. The two sides held two training courses on clinical genomics in 2016 and 2017 respectively, and the enrollment work of the third training course is now under way. The training course is the first China-UK long-schooling training course in Clinical Genomics in China. After completing the study, the trainees will receive professional accreditation from UoM.
  Written by: WU Zhaoxia
  Edited by:Liu Xin
TOP