Home» News&Events» News» Zhao Mingwei Awarded Outstanding Leadership by Overseas Chinese Association for Vision and Eye Research
Zhao Mingwei Awarded Outstanding Leadership by Overseas Chinese Association for Vision and Eye Research
  From April 29 till May 3 2018, the Association for Research in Vision and Ophthalmology (ARVO), the world's largest and most respected eye and vision research organization, held its 2018 Annual Meeting at Honolulu, Hawaii, US. Professor Zhao Mingwei, Director of Ophthalmology Department of PKU People's Hospital (PKUPH), was given the 2018 Outstanding Leadership Award by the Overseas Chinese Association for Vision and Eye Research (OCAVER) for his contributions to the basic and clinical research in vision and eye science. This is the second international award Professor Zhao won after his 2014 "Golden Key Award" by the Sino-US Ophthalmology Society.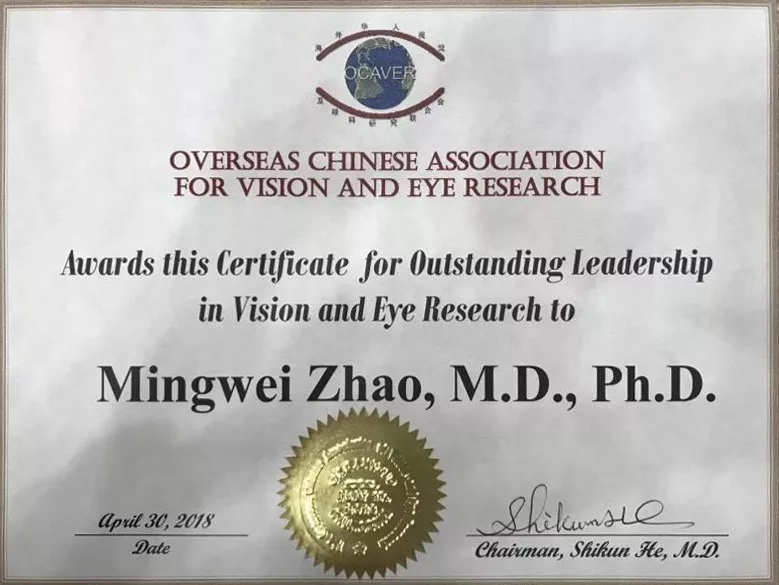 The Certificate
  It's reported that the Outstanding Leadership Award is one of the highest awards for OCAVER members and it is given to Chinese doctors and researchers in ophthalmology with outstanding leadership and achievements, especially those who have made remarkable contributions to China's policy making, international collaboration, and professional managing in ophthalmology.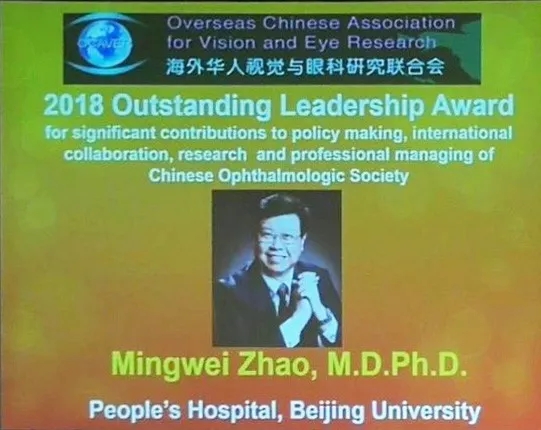 Professor Zhao Mingwei, M.D., Director of Ophthalmology Department and Eye Center of PKUPH, Dean of School of Ophthalmology and Optometry, PKUHSC.
  Written by: Lang Lang
  Edited by: Liu Xin
  Source: PKUPH
TOP