Home» News&Events» News» PKU Medicine • International Forum on Clinical Research & the Institute's 10th Anniversary Ceremony Held
PKU Medicine • International Forum on Clinical Research & the Institute's 10th Anniversary Ceremony Held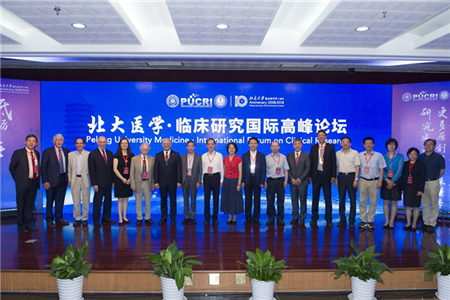 On June 10, PKU Medicine · International Forum on Clinical Research was held at Peking University Health Science Center (PKUHSC). Scholars and experts from home and abroad gathered together to look for ways to further develop clinical research and celebrate the 10th birthday of Peking University Clinical Research Insititute as well.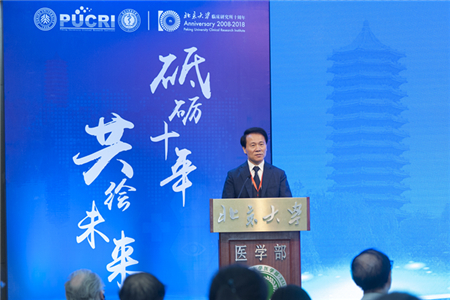 ZHAN Qimin, executive vice president of Peking University and president of PKUHSC, recognized the achievements made by the Institute and put forward several suggestions for the future development: "First, stay true to the original aspirations, serve the needs of the country, and follow the international frontiers; Second, strengthen the efforts to integrate frontier technologies into clinical research; and third, reinforce the cooperation with the government, brother universities, and enterprises, so as to contribute to the development of healthy China.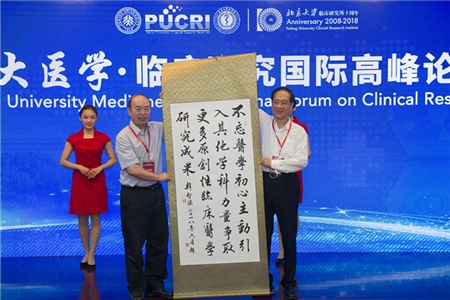 Academician HAN Qide gave as a present his calligraphy for the 10th anniversary celebration of the Clinical Research Institute, and made a speech titled "Clinical Doctors, Clinical Research and Clinical Medicine".
  Many world-known scholars including professor Meyer from Basel University Biological Research Center in Switzerland, professor LU Ying from Stanford University, professor Carl Peck and professor Leslie Benet from Univeristy of California, San Francisco (UCSF), and profesor ZHANG Yawei from Yale University, joined this academic feast. They brought to the participants the most advanced academic developments with their vivid and insightful reports. After delivering reports, they also answered in detail the questions raised by the audience.

  Written by: WU Zhaoxia
  Edited by:Liu Xin
TOP