Home» News&Events» News» Peking University Health Science Center and the University of Manchester Hold a Joint Webinar
Peking University Health Science Center and the University of Manchester Hold a Joint Webinar
  The opening ceremony of the joint webinar hosted by Peking University Health Science Center and the University of Manchester (UoM) was held on January 11, 2021. During the following week, the webinar will include five thematic workshops: health big data, pediatric genomics, pharmaceutics, neurosciences and oncology.
  The opening ceremony was cohosted by Qiao Jie, Vice President of PKUHSC, and Keith Brennan, Associate Dean of Faculty of Biology, Medicine and Health of UoM. Zhan Qimin, PKU Executive Vice President, and Graham Lord, UoM Vice President, made speeches respectively. Zhang Ning, PKUHSC Vice President, and Nigel Hooper, UoM Associate Vice-President, introduced the history and the future plan of the two universities' cooperation.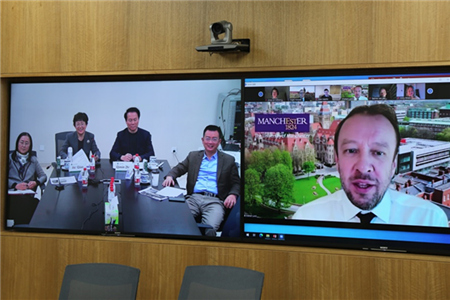 PKUHSC and UoM have been maintaining a very good cooperative relationship in the field of medical genetics for a long time. The PKUHSC-Manchester Joint Research Center for Medical Genetics was established in 2014, through which the two universities have carried out cooperation in gene testing, diagnosis, and consultation. Organized by PKUHSC and UoM Faculty of Biology, Medicine and Health, the China-UK training program of clinical genomics has been held five rounds by PKU First Hospital. This is the first long-term training program established by China and the UK, trainees of which will get UoM's professional certification after the completion of the program.
  In recent years, specialists from the two universities have frequently visited each other, and academic exchanges and cooperation have been gradually promoted. Through this joint webinar, the two sides hoped to extend the cooperation into multiple fields such as oncology, neurology and psychology, pharmaceutics, nursing, big data, multi-omics, digestive medicine, and pediatrics, so as to make continuous efforts to solve health problems faced by human beings.
  Written by: Lang Lang
  Edited by: Liu Xin
TOP