Home» News&Events» News» Peking University Launches "High-Level Applied Public Health Talents Training Innovative Program"
Peking University Launches "High-Level Applied Public Health Talents Training Innovative Program"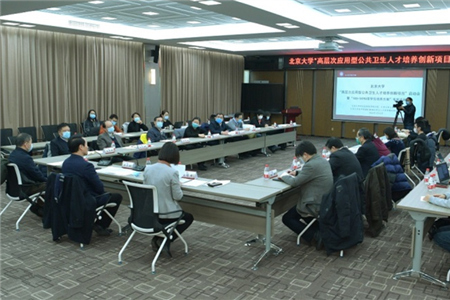 Tuesday January 12 saw Peking University launch the "high-level applied public health talents training innovative program" and hold the expert consultation for "MD plus MPH double degrees syllabus". Present at the meeting were Zhan Qimin, PKU Executive Vice President and PKUHSC President, and leaders and experts from PKUHSC Graduate School, Office of Education, Office of Continuing Education, School of Medical Continuing Education, affiliated hospitals, and School of Public Health.
  Duan Liping, PKUHSC Vice President, introduced the background of the Ministry of Education (MOE) and the National Health Commission (NHC) to establish the "high-level applied public health talents training innovative program", and read out the project document.
  PKU puts a high premium on the reform and innovation of the program, and provides support in terms of admission resources, policy guidance, scientific research and teaching conditions. At the same time, bringing into full play its role as the secretariat and the vice committee member of National Guiding Committee of Medical Degree Postgraduate Education, the University organized domestic experts in public health to push forward the training of high-level public heath talents by establishing the norms and standards. In the process of carrying out teaching reform, the University launched the building of public health degree postgraduate curricula and course books, produced quality online courses to share nationwide, and set up public health-and national management-related key teaching case database.
  Leaders from MOE Department of Postgraduate Education and NHC Department of Health Science, Technology and Education expressed their concern and support for the implementation of the program.
  Written by: Lang Lang
  Edited by: Liu Xin
  Source: PKU School of Public Health
TOP